Pod Builder is an easy way to create SkySpark extensions of your Axon functions, Views, and Apps, to share with others.
Pod Builder is an SkySpark extension itself and requires SkySpark 3.0.23 or later.
Pod Builder is FREE to download and evaluate. All features are fully unlocked for the creation and continued modification of your first POD!
Note for security considerations, Pod Builder is only available to SkySpark users with Super User (SU) privileges.
Why use Pod Builder?
Maybe you need to copy Axon functions between SkySpark installations? Or maybe you need to share some amazing SkySpark views with your team?
Pod Builder saves you much time and effort by "compiling" Axon code and Folio records into a valid SkySpark extension. Now you can easily distribute your amazing code in a simple and convenient way.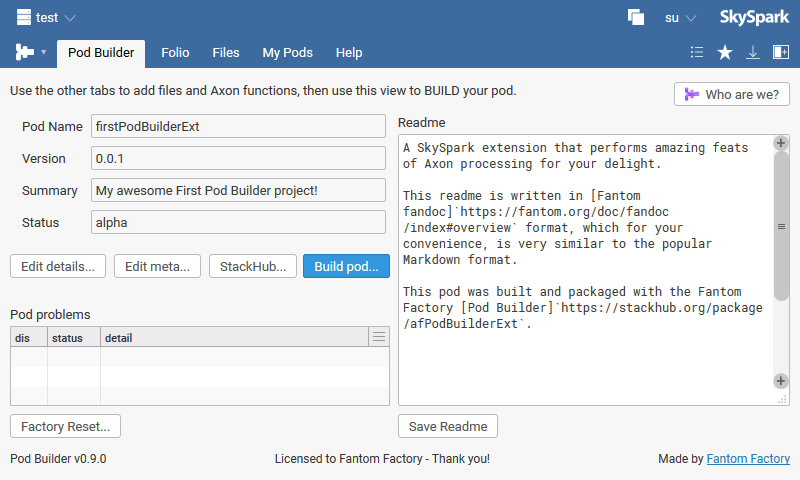 Need to automate tasks? Pod Builder also ships with Axon functions for programmatically building, installing, and uploading pod files to StackHub.
How it works
Use Pod Builder to select Axon Functions, Views, Applications, and Tag definitions to be included in your extension. You may also add other files, such as images, icons, or help documentation. Pod Builder then wraps up all your content into a correctly formatted POD file, along with appropriate meta and display information for SkySpark.
Using Pod Builder ensures SkySpark will recognise your POD as a valid extension, making it easy to create, distribute, and install your extension on any SkySpark project!
StackHub integration
Pod Builder provides convenient StackHub integration. Simply enter your StackHub account details to upload your POD directly to your StackHub account. Now YOUR SkySpark extension will be available and listed by the SkySpark Install Manager.
By default, pods uploaded to StackHub are publically available to everyone. Pods may be kept private to your organisation for as little as $25 USD / month. See StackHub subscriptions for details
This presentation was a winning entry in the SkyPosium 2020 ViewBuilder BakeOff!
Beyond Pods
Once you've created and distributed a pod, Pod Builder's usefulness does not stop there. Clean up your dev environment by Archiving your Folio records in the Folio View.
A good project often leaves you with 10s or 100s of Axon funcs on your dev machine which can be difficult to keep track of. The Archive button lets you move your funcs - where they are no longer recognised as funcs by SkySpark, but they are still included in your pod's .trio file.
This is great for keeping a clean dev environment and for keeping track of only those Axon funcs you have recently changed and updated.
Note that archived records STILL appear in your pod!
How does it work?
Archiving a record removes the func tag and replaces it with a afPodBuilder_func tag. This way the record is preserved in Folio, but SkySpark no longer recognises it as an Axon func. A similar process it used for other records such as view and rule.
Deleting a pod project, or performing a Factory Reset, will move all archived records to the Trash, while all other Pod Builder files and records get deleted.
Licensing
Pod Builder is a commercial product and requires a licence for commercial use and to enable all features.
Pod Builder Licences are tied to a SkySpark installation / host ID. This means a separate licence will need to be purchased for each SkySpark server Pod Builder is installed on. You will need to enter your SkySpark licence ID when purchasing, see Where is my SkyArc Installation ID? for details.
Pod Builder licences expire after 1 year and a further licence will need to be purchased for conintued use.
Purchased licences are available from the StackHub Licences page and should be downloaded to the /var/lic/ directory of your SkySpark installation.
Minor updates and bug fixes to Pod Builder may be provided free of charge, but major updates will require a new licence to be purchased.
For support and comments, please email -------------------------.
Evaluation mode
Without a valid licence, Pod Builder enters into a fully featured evaluation mode where all features are enabled for the creation of a single pod.
Evaluation mode is designed for developers to try out Pod Builder to assess its suitability for purpose.
To manage and create multiple pods, a valid licence may be purchased from StackHub.
Disclaimer
The software is provided "AS IS" and the author disclaims all warranties with regard to this software including all implied warranties of merchantability and fitness. In no event shall the author be liable for any special, direct, indirect, or consequential damages or any damages whatsoever resulting from loss of use, data or profits, whether in an action of contract, negligence or other tortious action, arising out of or in connection with the use or performance of this software.