Axon Docs shows documentation for Axon functions all grouped by argument type, neatly within SkySpark.
Axon dot calls are great for piping the output of one function as the argument to another. But how many times have you typed a dot and been left wondering what function comes next!?
Now with Axon Docs you can select your argument and see all the functions it can be passed to!
Axon Docs adds a new View to the Func editor application within SkySpark.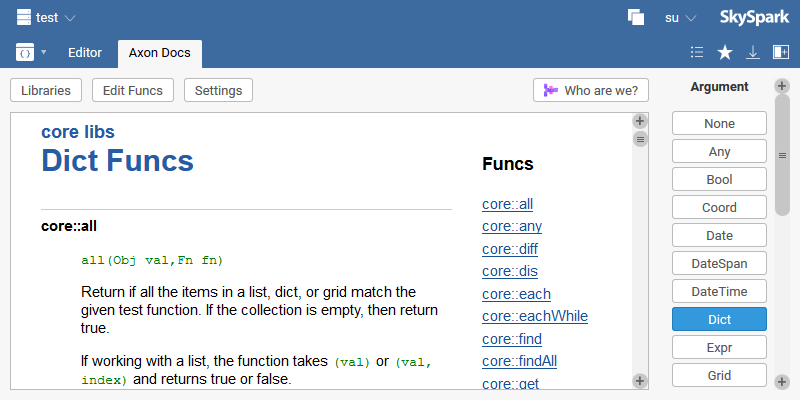 You can select which libraries to show functions from, and even edit which functions are associated with which argument!
How it works
Axon Docs maintains a list of all Axon functions from all the extensions in your project and what "Types" they can take as their first argument.
Clicking on an "Argument" button then performs a quick search on this list to find (and display) all matching functions.
Often, Axon Docs is able to make an educated guess as to what argument types a function may take. But other times it simply has no clue! These unknown functions are listed under the [???] button.
Unknown functions may be manually assigned argument types by using the Edit Funcs dialogue.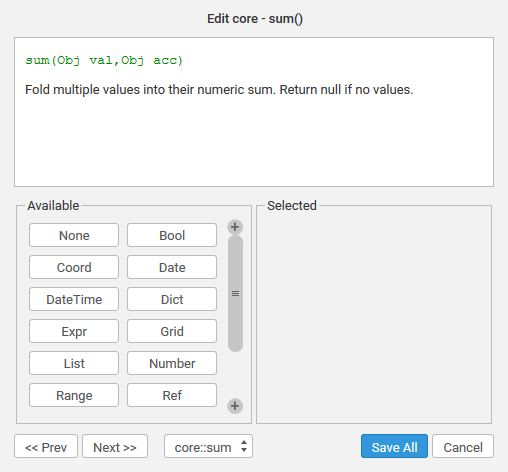 You may use the Edit Funcs to change the argument types for any function.
Note: The Edit Funcs dialogue does not edit or alter Axon functions, it just updates the internal Axon Docs database.
Settings Dialogue
The Settings Dialogue allows you to import and export the internal Axon Docs database. This way you can copy your customised Axon Docs settings from project to project, or from server to server.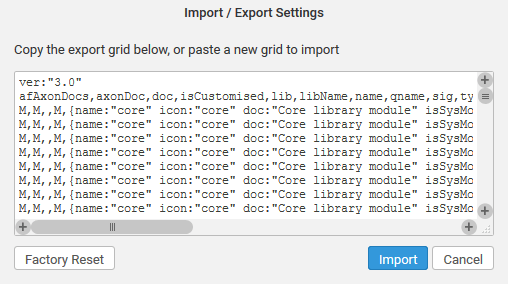 Licence
Axon Docs is not open source, but it is free to use.
By using View Refresher you agree to the End User Licence Agreement contained within the software.